Providenciales – Turks and Caicos Islands
The most populated of the Turks and Caicos islands, Providenciales is one of the world's top beach destinations. The diving and snorkeling is as convenient as it is stunning, thanks to miles of coral reef that's easily accessible from the shore. The upscale resorts and captivating beachscapes of Grace Bay make it a popular choice for waterfront escapes. The cliffs and crags of Chalk Sound make a lovely backdrop for kayaking the bright turquoise waters.
Maui, Hawaii – The Unites States
The Hawaiian island of Maui is a destination for true nature lovers. The ethereal bamboo forest and churning waterfalls in Haleakala National Park can be explored via the Waimoku Falls Trail. Stretch out on warm, golden sands or hit the surf for an unforgettable windsurfing or snorkeling session. Driving the scenic road to Hana along the island's northeastern shore will be among the most spectacular journeys of your life. Time stands still at the Hawaiian village of Keanae, definitely worth a visit.
Roatan – Honduras
The best way to cap off a day of pristine Roatán reef diving and heart-pumping adventure is to sip a sunset cocktail by the beach. From zip-lining to deep-sea fishing to exploring the military-protected archipelago of Cayos Cochinos, the Honduran island is a playground for lovers of water sports and ecotourism. Landlubbers will adore the Carambola botanical gardens, touring the Stone Castle Cameo Factory, or exploring the beaches on horseback.
Santorini – Greece
Even if you've never been to this Cyclades island in the Aegean Sea, you'd still recognize it immediately – candy-colored houses carved into cliffs, sapphire waters, gleaming white buildings topped with half-spheres the color of a stormy sky. Here you'll find peace as you roam the black sand beaches or the streets of a provincial village like Imerovigli. Beautiful Oia is world famous for its sunsets, which seem tinted with every shade of an artist's palette. 
Ko Tao – Thailand
Drifting serenely in the Gulf of Thailand, the palm-fringed island of Ko Tao takes its name from the abundant sea turtles that reside on its shores. White sand beaches sheltered by steep hills – some only accessible with four-wheel drive vehicles – and 300 days of sun per year invite long afternoons of lounging.
Madeira – Portugal
Breezy Madeira is an eponymous island in the Madeira Islands, a Portuguese archipelago. The capital city of Funchal was settled in the 15th century and is a colorful collection of gardens, religious sites, and quirky tourist attractions like the thatched-roof Madeira Story Centre. Hike to the summit of Pico Ruivo and you'll feel like you've climbed through the clouds. Unwind over a glass of Madeira wine, an historic fortified beverage that's musky and subtly sweet.
Bali – Indonesia
Bali is a living postcard, an Indonesian paradise that feels like a fantasy. Soak up the sun on a stretch of fine white sand, or commune with the tropical creatures as you dive along coral ridges or the colorful wreck of a WWII war ship. On shore, the lush jungle shelters stone temples and mischievous monkeys. The "artistic capital" of Ubud is the perfect place to see a cultural dance performance, take a batik or silver-smithing workshop, or invigorate your mind and body in a yoga class.
Mauritius
Mauritius is arguably Africa's wealthiest destination, a tropical paradise with tons to do. Port Louis, the modern capital of this 38-mile by 29-mile island, is a bustling port with a revitalized waterfront and a busy market. But most visitors gravitate toward resort areas such as Mont Choisy, quiet Trou-aux-Biches and the more bustling Flic en Flac, popular with scuba divers. Rivière Noire is ideal for those looking for great deep-sea fishing.
Bora Bora – French Polynesia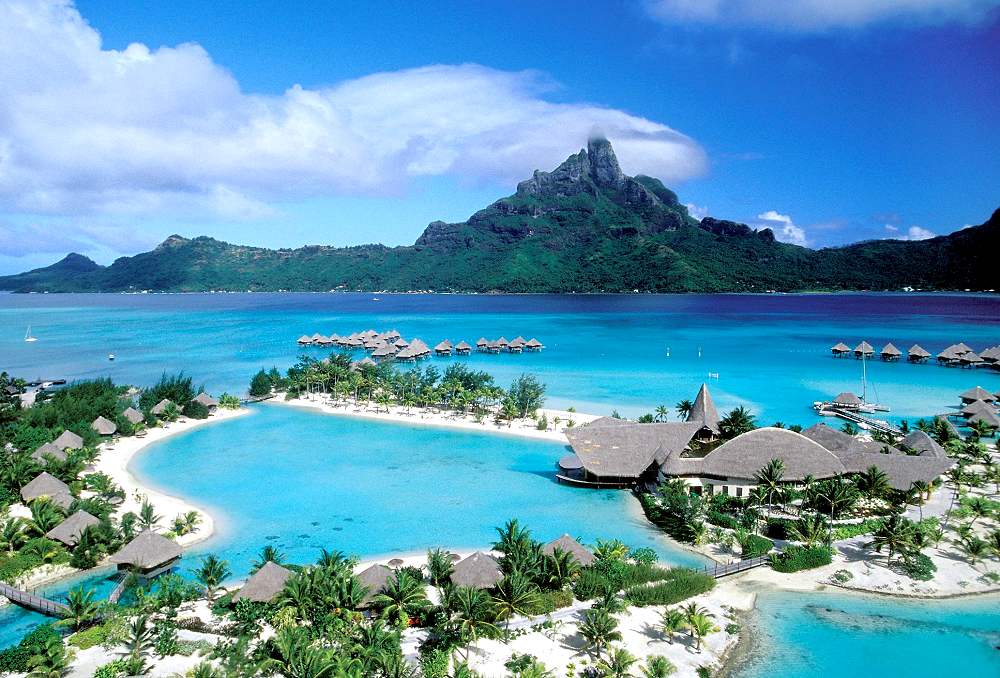 Turquoise lagoons, soft white sands, and deep tangerine sunsets set the scene for romance on the island so nice they named it twice. Mingle with tropical fish as you flutter around Coral Gardens or Tupitipiti Point, or relax in a self-driving tour as you take in beautiful views of the once-volcanic Mount Otemanu. At the Lagoonarium you can watch shark feedings and swim with turtles. Cap it all off with a succulent meal at one of the island's fine French restaurants, then sip a tropical cocktail under the stars.
Fernando de Noronha – Brazil
The archipelago of Fernando de Noronha is a UNESCO World Heritage Site with a delicate ecosystem. Visitors are restricted, but the lucky few are rewarded with unrivaled beaches and soothing warm waters filled with dolphins and sea turtles, making Noronha one of the world's top diving destinations. On land, hike the ecological trails of Jardim Elizabeth, the Esmerelda Coast or Sancho Bay, which culminates in a climb up a steep set of stairs carved into the split of a cliff.
Source: TripAdvisor.com